Some rows are missing after clicking 'Get Data'
Some rows are missing after clicking 'Get Data'
It's possible that you have a filter set on the data header row of the informXL analyzer.  The filter may even be in a "grouped" or "hidden" column.
Select the "CLEAR FILTERS" button on the analyzer to clear any filter that may have been placed on the worksheet.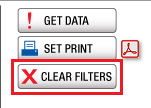 Also look at the row numbers, if some numbers are missing then some rows have been hidden. Select some rows that include the missing rows, right-click and select "unhide".