informXL Analyzer for NEWSTAR Installation Requirements  
Updated: December 15th, 2022
Applicable to: informXL versions 2022.0.0 and higher
Minimum Requirements
• Constellation NEWSTAR v2020.04.05 or higher
• Microsoft Office 365, Office 2019, or Office 2016*
• Microsoft Windows 10 / Windows Server 2012 or higher
* Microsoft has ended mainstream support for these Office products. Therefore, informXL cannot guarantee that all informXL features and functionality will be available on these platforms.
Installation Summary
informXL Analyzer v5.1 and higher operate using a Microsoft Excel Add-in. This add-in requires
installation within each user's Office profile. Installation may be achieved by either of the following two
methods:
Method 1 – Basic Installation
Within the informXL "User Setup and Documentation" directory run the "Analyzer Setup" and "Microsoft ODBC Driver for SQL Server" installation files. These installations may require local PC admin rights.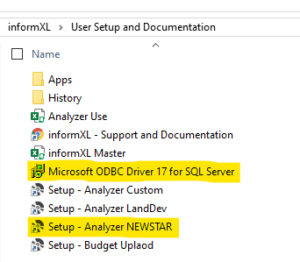 Method 2 – Technical Installation via Windows Group Policy
Windows Group Policy (GPO) may be used to centrally push the installation across network PC's
and or Remote Desktop Servers. The below four items should be included with the GPO
installation.
Computer/Server Installation Requirements
1. NET Framework 4.8: Microsoft download .NET 4.8
2. Microsoft VSTO Runtime: Microsoft download VSTO Runtime
3. Microsoft ODBC Driver 17 for SQL Server: Microsoft download ODBC Driver 17
Current User Profile Installation Requirements 
The below registry file definition should be pushed to each user running informXL Analyzer. (NOTE: the specified manifest path may require adjustment depending on your specific informXL file folder directory).
<BOF>
Windows Registry Editor Version 5.00
[HKEY_CURRENT_USER\Software\Microsoft\Office\Excel\Addins\informXLRibbon]
"Description"="Add-in that provides the ribbon for informXL Analyzers."
"FriendlyName"="informXL Analyzer Ribbon"
"LoadBehavior"=dword:00000000
"Manifest"="file:///N:/informXL/User Setup and
Documentation/Apps/Ribbon/informXLRibbon.vsto"
<EOF>
All above installation steps will not affect informXL Analyzer versions prior to v5.1, and therefore may be
completed and tested at any time. If either the .NET Framework or VSTO components are already
installed on the PC or server these installation items may be skipped.