WARNING: Some active content has been disabled
There is a Microsoft Excel setting that will suppress messages that will allow Macros to run on a specific workbook (apparently, this is a per-workbook setting).  If this is enabled, you will receive the following 'Warning':

If you are receiving the above 'Warning' accompanied with issues loading the informXL Ribbon, please follow the steps below:
Navigate to: File >> Options >> Trust Center >> Trust Center Settings: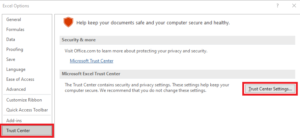 Within the Message Bar:  you will notice "Never show information about blocked content" is selected. Uncheck….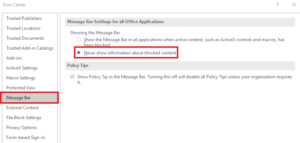 …and Select, "Show the Message Bar in all applications when active content, such as ActiveX controls and macros, has been blocked".