Support Bulletin 12-10-2014
Issue:
Following Microsoft Windows Automatic Update users of informXL Analyzer are greeted with error message "Run-time error '438'…" upon file open.
Cause:
Microsoft Windows Update failed to remove temp files from the user's temp directory following the completion of Windows Update.  The following Microsoft Knowledge Base (KB) files are linked to this issue:
Office 2013
KB2726958
Office 2010
KB2553154
Office 2007
KB2596927
Solution:
Following the completion of Windows Update, if user experiences the issue described apply one of the following solutions below:
Option 1 (preferred):  Run the Windows "Disk Cleanup" utility and remove the "Temporary files" left over from Windows Update: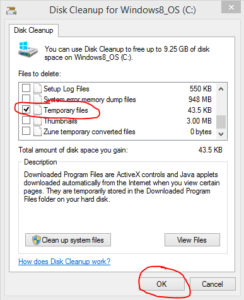 or Option 2:  Remove the files manually by navigating to:
C:\Users\YOURNAME\AppData\Local\Temp\Excel8.0\
Within this folder remove all files with an .exd extension.
NOTE:  To remove .exd files you must exit out of all Microsoft Office applications.
NOTE:  To view this folder path you will need to enable view of "Hidden Items" within Windows Explorer.
or Option 3:  Contact Center6 Support for direct assistance:
Phone:  303-872-7763, M-F 8:00 a.m. – 5:00 pm ET
Email:    support@center6.com