ERROR: The following data range failed to refresh
If you receive the following error upon opening an analyzer, odds are you need to have the Microsoft SQL Server Native Client Driver installed on your PC (this is required for informXL to connect to the database).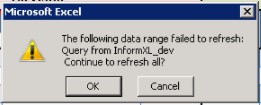 The Driver can be downloaded from the Installation Requirements – Analyzer NEWSTAR document found in the informXL Training & Setup page of the informXL website.  Depending on your Operating System will determine if you need the 32 or 64 bit SQL Driver.  
If you are unable to complete the Driver installation yourself, please contact your IT department or our informXL Support team at support@informXL.com.